As we approach a new year and a new decade, it's important to ask if your business is ready for what's to come. Is your supply chain entering 2020 behind the curve ­– or ahead of it? A modernized and tech-enabled supply chain is more important than ever, and so is the ROI to prove its worth.
As new supply chain technology and innovations enter the market, shippers and 3PLs are using these innovations to drive competitive advantage. According to research advisory company Gartner, worldwide investment in supply chain management software topped $12.2 billion in 2017. With more tools than ever at their disposal, building a technology-enabled supply chain can provide massive benefits to shippers and providers by: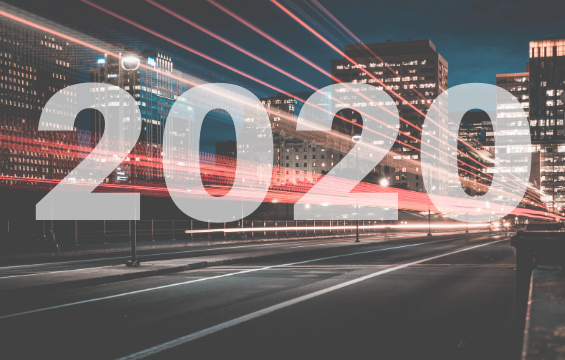 Streamlining operations
Reducing the cost of goods and labor
Increasing service levels
Enabling businesses to scale faster without adding staff
Boosting profitability and customer satisfaction
For providers, technology can also deliver a competitive edge by empowering shippers to manage their freight alongside their companies. As 2019 comes to a close, it's a good time to evaluate if your business has the logistics tools it needs for success. Here are three major questions to consider as your business looks to integrate technology into your supply chain.
1: How much of my supply chain is automated versus manual? 
Many supply chain processes are prime candidates for automation, which can help reduce spending on labor and goods without compromising quality of service. Yet too many businesses are still performing tasks like quote management manually when they could be automated. This leads to wasted hours shopping for the best rates, delayed information, and uncertainty about whether they're choosing the best carriers and the most effective modes.
An API-enabled TMS like Primus can help streamline operations and improve service levels through smart automations. Primus offers 120+ vendor integrations, allowing 3PLs and shippers to increase efficiencies in key areas like:
Rate shopping. The Primus API allows your business to pull carrier rates directly in your TMS, eliminating the redundant task of gathering rates from multiple carrier sites.
Shipping. From small packages to LTL and FTL providers, TMS-enabled automation allows businesses to dispatch electronically and create BOLs and labels directly in the platform in under a minute. There's no need to enter data again on the carrier side, saving time and stress.
Tracking. Using the Primus direct to carrier APIs, our TMS automatically pulls real-time status updates on shipments and proof of delivery when available. This allows users to keep tabs on shipments each step of the way without having to check multiple carrier sites.
Invoicing and aging. Toggling between multiple systems to track invoices from multiple carriers is an exhausting time drain for businesses. With Primus, you can push your accounts payable and receivable directly into your accounting platform of choice. This eliminates double entry, which frees up your time and effort and improves overall efficiency.
2: How much are we investing in technology?
As you plan your budgets, it's important to consider not only what you'll spend, but also what you'll get in return. With TMS software, that return often comes through more efficient workflows, increased automation, and the ability to pivot on a dime during disruptions without compromising customer service. According to McKinsey, businesses that digitize supply chains can boost their earnings before interest and taxes by 3.2%.
That's why it's important to find a provider that is not only a vendor, but also a reliable "technology partner." This kind of partner should be willing to grow with your business to provide custom solutions exactly when you need them. Each company has a unique workflow, and while developing roadmap solutions is the norm, a partner can add value when they're willing to help customize solutions.
When vetting technology solutions, look for a platform that offers transparent pricing and is easy to use out of the gate, so you don't waste precious time and resources during the onboarding process. With Primus, upgrading your TMS platform is simple and affordable. Pricing for BOLs starts at $3 per invoice and includes everything from quoting to ongoing support, equipping your business to work much more smoothly. Our industry experience as a team and our willingness to provide different solutions sets us apart as the kind of technologically savvy partner that can help your business grow.
3: Is my supply chain ready for the future?
With supply chain costs on the rise, it's crucial to have a plan to drive efficiency. Business' logistics costs rose across the board from 2017 to 2018, highlighting the need for new tools that can help boost efficiencies.
Facing often unpredictable or tumultuous market conditions, more 3PL providers are migrating to tech solutions – and those who don't will be at a distinct disadvantage in the marketplace.
93% of shippers say tech capabilities are a critical part of their 3PL's expertise, yet only 55% of them are satisfied with their partner's IT capabilities. That's exactly where tools like Primus come into play. Logistics providers can utilize the API-enabled Primus TMS to rate shop, execute electronic dispatches, track shipments, and invoice while connecting customers to their data and tools. This also enables 24/7 access to shipping information, making Primus a key, on-demand tool for logistics providers.
While the future itself may always be uncertain, your business can gracefully plan for whatever may come by integrating the right technology, right now. Investing in your future will not only benefit your company, but also your customers, and will equip you to face the new year – and new decade – head-on.
Invest in your future with Primus Solutions.